Guide for Visitors
Welcome to the Institute for Theoretical Physics/TU Vienna!
If you have any problems which cannot be solved just by reading this, do not hesitate to ask your host or the adminstration for help.
Topography
Location in the city
The address of the institute is: Institutsgebäude der Technischen Universität Wien ("Freihaus"), Wiedner Hauptstraße 8-10, 1040 Wien.
A picture of the building "Freihaus" can be found here.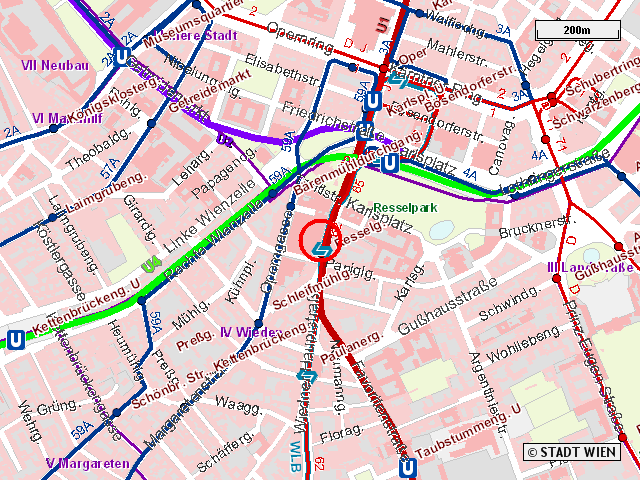 This image was created by this link.
Please click here for an interactive GIS locator, centered at the Wiedner Hauptstraße 8-10 in the 4th District.
Location in the building "Freihaus"
The Institute of Theoretical Physics (E136) spreads over the
10th floor, Tower B (yellow): workrooms, secretariate, laser-printer, Fax, part of the library (``Institute Library").
3rd floor, Tower A (red): workrooms, just opposite the elevators.
2nd floor, Tower B (yellow): Physics Library.
Telephone
The internal code for the telephone is a five-digit number which you find under the receiver; to call from abroad dial (+43-1-)58801 + this code. To call from the University (within Vienna) either dial a '02' (business calls) or '03' (private calls) before the regular number or, equivalently, press the button left below the dial before lifting the receiver. Calls outside of Vienna are only possible through a calling card.
External activities
Public transport
Go here or here for timetables of local public transport. Here is the page of the railway company "ÖBB."
Sports
Click here for an overview of current sports events and activities.
Hiking
For some trails in the vicinity of Vienna, please consult this page.
The City of Vienna's official Hiking in and around Vienna page is here.
Weather forecasts can be found here or (in German!) here.